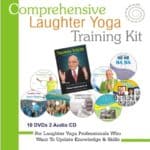 e-Comprehensive Kit
¥6,267.00
Comprehensive Kit contains Laughter Yoga Training Videos, 40 Foundation Exercises, Laughter Bank Vol 1, Laughter Bank Vol 2, Laughter Yoga with School Children, Laughter Yoga In Business, Laughter Yoga for Seniors, Yoga Nidra, Ho Ho Ha Ha Grounding Dance.
説明
Training Video 1: Concept, History & Philosophy behind Laughter Yoga
Dr. K explains the concept, history, philosophy and scientific theories which support this idea. Learn how to explain Laughter Yoga and its benefits in just '1' minute through the 5 point explanation.
Training Video 2: Systems & Procedures of Laughter Yoga Session
Dr. K explains the 4 basic steps of Laughter Yoga which will help laughter professionals to learn and teach how to conduct a laughter session.
Training Video 3: Laughter Meditation & Grounding Techniques
This video explains Laughter Meditation in depth to help you learn on how to start and end the session and help people experience laughter from deep within. See visuals of Grounding techniques like Ho Ho Ha Ha Grounding Dance, Yoga Nidra and Humming.
Training Video 4: Laughter Yoga Marketing, PR, Leadership and Presentation Skills
Learn how to start a laughter club and the value of public seminars and the art of successful presentations. You will also learn how to deal with media, prepare press releases, business docs, video clips, etc. which will help enhance your PR skills.
40 Foundation Exercises + Laughter Bank Vol 1 + Laughter Bank Vol 2
A collection of selected Laughter Yoga exercises, it is an effective blend of yogic, playful and value based exercises. It will help LY teachers to train laughter leaders and also those interested in learning more about Laughter Yoga sessions. Dr. K's description of each exercise is coupled with captivating visuals from different laughter clubs round the world.
Laughter Bank Vol 1 & 2
This is a collection of 60 more laughter exercises in addition to 40 Foundation Exercises to make your Laughter Yoga session lively and energetic as repeating the same exercises tends to become boring and monotonous.
Laughter Yoga In Business

This DVD deals with different avenues where LY professionals can find business opportunities in areas like companies and corporations, Yoga studios and fitness centers, Senior (old age) homes, with cancer, self-help groups, mentally and physically challenged, professional speakers and HR trainings, hospitals, personal development and others. It also addresses the issues faced by the business community and provides guidelines on different kinds of programs for the business world.
Laughter Yoga with School Children

This video is for Laughter Professionals and for anyone who wish to introduce Laughter Yoga to School Children and bring more Laughter in their lives.
Watch Laughter Yoga being conducted with hundreds of children in different schools in India. You will also see special Laughter Yoga sessions with physically and mentally challenged children, deaf and mute children and also with street children.
Laughter Yoga for Seniors
This DVD for laughter leaders and teachers presents new techniques from Allan O'Meara, the world's most experienced laughter coach for seniors.
Yog Nidra
Yoga Nidra or yogic sleep is a unique art of conscious relaxation without really going to sleep. It generates a sense of calmness to the mind and you will feel energized, cheerful and relaxed. Just 30 minutes of Yoga Nidra is equivalent to two hours of ordinary sleep, and is the fastest way to recharge and relax both body and mind. Hear Dr. Kataria as he takes you through guided relaxation and helps you feel refreshed and rejuvenated.
Ho Ho Ha Ha Grounding Dance

Grounding dance is a technique used in laughter clubs after a laughter session and meditation. Although most people feel energized after a laughter session, there are a few who get emotionally overwhelmed and unsettled. At times, they may experience sadness and may even feel like crying. Grounding dance is a spiritual method which uses the movement of the hands to direct the energy towards the ground making one feel emotionally stable and well grounded.